Halloween Nails -220+ Pictures – Part -1
Halloween nail art
The Halloween manicure mood board with our pick of products, spooky stickers, and macabre manis to inspire your ghoulish nail art
Halloween nail art
If you haven't nailed your Halloween outfit, then leave it to your manicure to do the spooky talking. Whatever your style, here's our edit of the best nail designs, products, and polishes to digitally enhance your Halloween outfit.
The Modern Morticia Manicure
As illustrated by nail artist Jenny Longworth on Jessie J's nails, a Halloween manicure doesn't have to means gimmicks. Just keep it long, dark and edgy.


Jessie J models the sophisticated take on Halloween nails. Photo: @JennyNail's
If like Jessie J you want to keep it ghoulish but grown up, arm yourself with a devilishly good black polish, in matte or gloss, first of all. A black or gold glitter also works well over bare nails if you want to keep the look simple.

Models Own Red Alert, £4.99 from ModelsOwn, Revlon Colorstay Gel Envy in BlackJack, £6.99 from Superdrug, YSL La Laque Couture in 47 Feuille d'or, £18.50 from Debenhams, Ciate Polish in Check Mate, £6.75 from ciate.com
IN PICTURES – The hottest nail artists on Instagram
The Cobweb Mani
Chalkboard black nails, with a little nail art on your feature finger. Easy, effective and slightly less chilling than most.


Cobweb inspired nails by WAHNails. Photo: @WAHNails
Alternatively, invest in some stickers by Lazy Nails, pictured below. Just stick 'em on, and go trick or treating. A Halloween cackle without the tackle, nice.


Lazy Nails lazynails.com, £6.99
READ – Exposed, the naked nail trend from London Fashion Week
Bloody Gels
Done here with gels, copied DIY style just as easily as the white polish with deep, dark red polish over the top. If you are going to attempt the third finger cobweb, make sure you do it with a finer-pointed nail polish pen.


Bloody Gel nails by iCandy. Photo: @icandynails
Mini Monster Manicures
The cutesie way to do Halloween themed nails as demonstrated by nail artist wonder Sophy Robson.


Trick or treat nails the friendly way by Sophy Robson. Photo: @SophyRobson
And, if you don't to invest in all five ccolorsto get the look, go for green – when else can you wear the emerald hue?

OPI You Are So Oudda Lime, £7.17 available from BeautyBay.com, Deborah Lippman She Drives Me Crazy, £16 from lookfanstastic.com, Essie Mojito Madness, £7.73 from BeautyBay.com.
READ – Halloween costume ideas
The Frightening Five
Why choose one design when you can pick five? Exactly, thought the creative nail company who came up with this quintet of designs.


The smorgasbord of Halloween design. Photo: creativenailcompany
A little extra inspiration came from Biosculpture, the nail gel company working from a salon near you.

BioSculpture Nails. For your nearest salon log onto biosculpture.co.uk
Bootiful: Once you get the hang of using your nail art pen your Halloween nail art gets easy. Paint your nails white and get writing.


Monochrome Halloween nails by WAH. Photo: @WAHNails
The Pumpkin Files
Of all the pumpkin-inspired manicures we found, this was the easiest, and for the record the best looking.


Easy pumpkin art. Photo: cute beauty
And these are the best orange hues to do the job
OPI in Carnivale, £11.50 from Debenhams, Butter London Silly Billy Nail Lacquer,£12 from Boots, Models Own polish in Summer Solstice, £4.99, available from Models Own.
While these are the lazy girl's way to get the look


Lazy Nails .lazynails.com, £6.99
Gold & Gothic & Gothic
As expertly shown by The Illustrated Nail, if you're feeling ambitious take one black polish and one gold nail art pen and go deco.


Gold, graphics and gothic by The Illustrated Nail. Photo: @theillusrtratednail

WAH London 01 Black Nail Art Pen, £7, Sally Hansen Nail Art Pen in Gold, £2.99 available from Amazon.
Halloween Bootiful Nail Designs
With Halloween's around the corner, here are a few ideas on adding some spookiness to your nails for Halloween nail designs. I've compiled these simple yet cute designs from around the net. I hope you'll find them useful.
Nail Art Tools
If you like to freehand your Halloween nail art, you will need some nail art supplies such as nail polish with Halloween's classic colors and nail brush. You may also use Halloween nail stickers or nail gemstones to make your design more attractive. The nail polish colors could be orange, black, yellow or white. Glitters are also great!
One great tool to freehand especially is Nail Art by Adoree. This thin-bottle nail polish (shown in the photo with silver glitter) has a thin, striper brush so you can paint your design more accurate.
Halloween Nail Stickers
Nail Sticker is a popular choice to get that scary look on your nails easily and quickly. Just peel and stick it to your nail. At Esther's Nail Center, we have Halloween themed (below) or Glow in the Dark nail stickers.
How to apply nail stickers:
1. Select and place the selected design on your nail where you want.
2. Gently press down the selected design on your dry polished nail.
3. Apply top coat to seal the design.
Halloween Nail Art
Need a little more challenge?  Let's try some bootiful designs below.
1. Floating Eyes and Spider
Source: Bewitching Nails
Level: Easy to Intermediate
What you'll need: black, white, and yellow nail polish.
Floating Eyes Instructions
Paint fingernails black. Allow drying.
Using white paint and the dotting tool, paint two pairs of small ovals on each nail. Allow drying.
Using black paint and the dotting tool, paint a small dot on each of the white ovals. For fun, place the dots in a different place on each set of eyes so it appears that these "eyeballs" are looking off in different directions.
Spooky Spider Instructions
Paint all fingernails yellow. Allow drying.
Using black paint or nail polish, paint a small circle in the bottom center of each nail.
Using black paint and a toothpick, add the spider's legs by painting 4 short lines on each side of the circle.
Paint a thin black line from the top of the nail to the spider's body. This is the spider's "web." Allow black paint to dry.
Using white paint, paint two small cres­cents on the spider's body for eyes.
2. Happy Ghosts
Source: Nails by Asami
Level: Intermediate
What you'll need: black, white and dark red nail polishes.Detail brush for painting. Rhinestones are optional.
Instructions
These little ghosts are happy in their own creepy little way. Since they're very simple, they've been applied over some vertical stripes to make the overall design more interesting.
Paint your full nail in any red nail polish. (Or purple, or orange, etc.).
Then take a black nail polish and drag out two vertical stripes down your nail.
Use white acrylic craft paint and a small rounded paintbrush to apply your ghosts.
Use the same paintbrush and black acrylic paint to draw on their happy little faces.
 Apply a few red gemstones if you have them, otherwise just seal with a clear topcoat.
3. Halloween Pedicure
Source: Terrific
Level: Easy to Intermediate
What you'll need: black and orange nail polishes. Yellow rhinestones.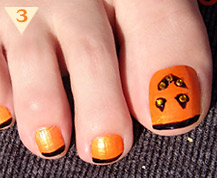 Instructions
Apply a clear base coat, and then a couple of coats of bright orange nail polish. Make sure that orange polish is not too transparent.
With black nail polish and paintbrush, draw a face with triangular shaped eyes and a mouth. For the eyes draw the dots first and then add pointy strokes at the top.
For more contrast add a black French Tip.
Place yellow rhinestones over the eyes and mouth of your toe-pumpkin. The rhinestones will shine just like candles.
4. Jack-o-Lantern Super Cute Nail Design
Source: Nail Max Oct 09
Level: Intermediate to Advanced
What you'll need: orange/coral nail polish, nail art by adore polish in black or detail brush and black nail polish. Green and black round rhinestones. Additionally, you'll need gold bullion beads to outline a design or form a shape you like. Aren't they scarily cute?
Step-by-step instruction is shown in the picture below.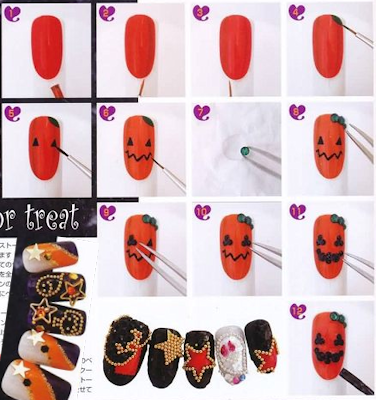 All nail art supplies mentioned here are available at EsthersNC.com. Check our great selection of nail art brush, nail art gemstones , and nail stickers.
So what Halloween nails you are wearing this time? Share your design with us by submitting your photos to info (at) esthersnc.com. Happy Halloween!