St Patricks Day Crafts for Kids -Part 1
St. Patrick's Day activities for kids
St. Patrick's Day offers a great opportunity to teach your kids about another culture, make a craft or two, enjoy some food and, of course, go green!
Although St. Patrick's Day was originally a religious holiday celebrating Ireland's primary patron saint, it's become more widely celebrated by people around the world, regardless of ethnic background and religion.
Break out the books
Start the day with a story that helps your kids understand who St. Patrick really was and how the holiday originated. Tomie dePaola's Patrick: Patron Saint of Ireland is an accurate and age-appropriate biography that helps distinguish between legend and fact. This book may be easier for children familiar with Catholic customs to understand, but the language is clear enough that is should be accessible to all families.
For a little more Irish history, read The St. Patrick's Day Shillelagh, by Janet Nolan. This story of a family leaving Ireland for America demonstrates the importance of holding onto family traditions even in a new place. Use it as a springboard to talk about your own family's heirlooms and customs, and a way to introduce the concepts of immigration and tolerance.
Once you've learned the history of the holiday, settle down for a fun read with There Was an Old Lady Who Swallowed a Clover! by Lucille Colandro. It's the silly tale of a woman who swallows things and part of a very funny series of books. Also, check out The Luckiest St. Patrick's Day Ever, by Teddy Slater, which is a fun story perfect for ages 4 and up.
Create crafts to make together

Make a shamrock necklace. Cut and decorate a shamrock from green construction paper or craft foam, and use a hole punch to make a hole in it. Thread a short piece of green or gold yarn or chenille stem through the hole. Decorate the shamrock with crayons, markers, glitter or whatever else you choose. Then, cut strips of yellow and green construction paper and use them to make a paper chain. Attach the shamrock to the paper chain, and parade around in your finery.
Create St. Patrick's Day rings. Glue small green pom-poms onto green or gold chenille stem to make rings or bracelets. Pipe cleaners and beads are a fun way to make bracelets — and easy for little ones to string.
Prepare patterns or stencils of St. Patrick's Day shapes — shamrocks, rainbows, pots of gold and so on. Then trace the patterns on green construction paper using green crayons. Next, apply a thin coat of white tempera paint over the entire page. The wax in the crayon repels the paint and makes the drawing pop off the page for a cool effect.
Eat, drink, and be merry
Sure you could serve foods that are naturally green, like peas and kiwis and avocados, but why stop there? Green food can be fun for your kids, and almost any favorite can turn green for a day! For a true treat, try making meat cakes. Start by making mini-meatloaves in a muffin tin. Next, prepare your favorite mashed potato recipe with the addition of green food coloring. Spoon the potatoes into a zip-top bag and cut off one of the bottom two corners, then pipe the potatoes onto the meatloaves to mimic cupcakes.
Other easy green foods include scrambled eggs (with the addition of food coloring), jello, lemonade and mint chocolate chip ice cream. If you don't think your kids will appreciate green food, you can also reshape ordinary dishes into shamrocks, rainbows, or other festive shapes.
Go green
Take the green theme a step further and find one thing you and your family can do to have a positive impact on the environment. Plant a tree, recycle paper, switch to cloth napkins — choose whatever works for your family and do it. The rewards you'll reap for that are even better than the mythical pot of gold at the end of the rainbow.
St. Patrick's Day Craft Ideas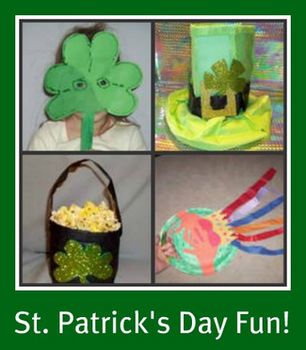 Pot of Gold Craft
Fill this leprechaun pot of gold with a gold coin or even popcorn!
Materials needed:
2-liter soda bottle to make a bowl shape
Black tissue paper
Cardstock
Green glitter foam sticker paper or St. Patrick's Day stickers
2 metal fasteners
What to do:
Cut the top off of a soda bottle, making a bowl shape and wash out the inside.
Cut a strip of black tissue paper that is about two inches wider than the bowl shape you created.
Wrap the tissue paper around the bowl. Tape in place. Wrap the bottom and tape. Then fold the extra two inches of the tissue paper down into the side of the bowl.
Make a handle for your pot of gold – cut a 1×8 strip of cardstock and wrap with the black tissue paper.
Choose where you want your handle and mark it.
Parents, use a safety pin to poke a hole on each side of the pot and through the handle on each end.
Attach each side of the handle with the metal fasteners. Now you will be able to move the handle up and down.
Decorate your pot of gold with a green glitter shamrock or use St. Patrick's Day stickers.
Fill with gold coins or golden buttered popcorn!
Leprechaun Hat
Make a leprechaun top hat out of a paper plate and some construction paper. This is best for the older kids.
Materials Needed:
1 large paper plate
Green tissue paper
Green construction paper (of the same shade green)
Stapler
Tape
Black tissue paper
Green glitter foam sticker paper
What to do:
Cut the center out of a paper plate.
Wrap the paper plate with tissue paper, making the brim of your leprechaun hat.
Cut out 2×8 strips of green construction paper (about 8 strips)
Fold the strips 1 inch from the top.
Lay the folded strip inside the circle and staple into place. Repeat all the way around the brim.
Cut out strips of green tissue paper. Apply glue and attach to connect where the construction paper strips meet.
Cut the top so that it is even. Cut out a strip of green tissue paper and make a border around the top.
Irish Claddagh Rainbow Streamer
The Irish Claddagh symbol corresponds to the qualities of love (heart), friendship (hands) and loyalty (crown).
Materials Needed:
Paper plate
Tissue paper (multiple colors)
Construction paper
Green paint, crayons or markers
Scissors
Glue
What to do:
Cut out a half moon shape on each side of the paper plate.
Color the plate green with paint, crayons or markers.
Trace both of your child's hands in orange construction paper and cut them out.
Cut out a heart with red and a crown with orange construction paper. Cut out jewels (diamond shapes) also.
Lay out the Claddagh design on the paper plate and glue them into place. Add jewels to the crown in the same color as the tissue paper used.
Cut out long strips of construction paper. We used the same colors as the jewels.
Wrap the tissue paper inside of the paper plate openings and tape or glue in place.
Shamrock Mask
Materials Needed:
Cereal box
Green construction paper
Craft stick/Popsicle stick
Glue
Scissors
What to do:
Cut out one side of a recycled cereal box (used as card stock).
Glue a sheet of green construction paper to it and let it dry.
On the other side, draw a shamrock shape (3 intersecting hearts and a stem).
Cut out your shamrock.
Mark eye openings and cut them out.
Paint or color your craft stick green and allow to dry.
Glue the craft stick to the back of the mask.
Decorate your mask with stickers or glitter glue. Maybe add a ribbon around the craft stick.